Cleveland Teen Is Chosen To Ride On 2018 Donate Life Rose Parade Float
Cleveland native and bone recipient Peter "P.J." Williams has been selected by the American Association of Tissue Banks to ride on the 2018 Donate Life Rose Parade Float in Pasadena, California. P.J. was nominated by Lifebanc, Northeast Ohio's federally-mandated organ procurement organization, and will join other recipients and donor families from around the country on the float.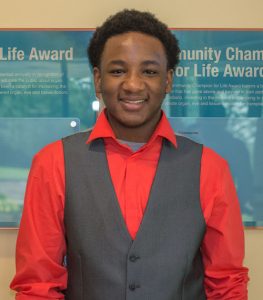 The 15th Donate Life Rose Parade Float, The Gift of Time, reflects the parade's theme, Making a Difference, by celebrating the power of kindness and the generous acts of people throughout the world who are making a positive difference in the lives of others through organ and tissue donation.
P.J.'s life was thrown into uncertainty in 2012 after hurting his leg playing football with friends. It was when the then 11-year-old's pain did not subside that he was given a devastating diagnosis: P.J. had a cancerous tumor on his leg. P.J. quickly began treatment at the Cleveland Clinic and the chemotherapy removed 97% of the tumor from his leg. Doctors then used a donated bone to piece P.J.'s leg back together, which saved the limb from amputation. Because someone said "Yes!" to the gift of life, P.J. is able to walk, run and live an active lifestyle.
The tremendous impact of his bone donor is not lost on P.J. "Donors are heroes," P.J. says. "To give away something like that, well, I really don't have any words for it. They just are heroes."
P.J. enjoys playing golf and bowling and participated in the 2016 Transplant Games of America in Cleveland. Since receiving his transplant, P.J. has also been an active Lifebanc volunteer and ambassador.
P.J. and his family will get to experience the Tournament of Roses first-hand during a weekend of activities leading up to the Rose Parade on New Year's Day.
The American Association of Tissue Banks has been a proud sponsor of the Donate Life Rose Parade Float since its inception in 2004. The AATB Donate Life Rose Parade float rider was selected through a competition among AATB-accredited facilities, and the winner was chosen by a committee of AATB staff members.