Cleveland Clinic Performs Third Face Transplant
In a 31-hour surgery on May 11, 2017, Cleveland Clinic surgeons and multiple specialists performed the hospital's third face transplant – and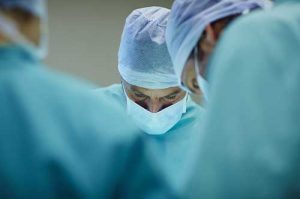 its first total face transplant – on a 21-year-old female who suffered severe facial trauma and other complications from a gunshot wound as a teenager.
Lifebanc was privileged to work with the family of the woman who provided this life-altering gift to the recipient.
Read the new release sent by the Cleveland Clinic with information about the surgery.
NEWS RELEASE
Cleveland Clinic Performs Third Face Transplant
11 surgeons, multiple specialists transplant 100 percent of patient's facial tissue; patient is youngest in the United States to receive a face transplant
Tuesday, July 18, Cleveland: In a 31-hour surgery in May, 11 Cleveland Clinic surgeons and multiple specialists performed the hospital's third face transplant – and its first total face transplant – on a 21-year-old female who suffered severe facial trauma and other complications from a gunshot wound as a teenager.
The surgery included transplantation of the scalp, the forehead, upper and lower eyelids, eye sockets, nose, upper cheeks, upper jaw and half of lower jaw, upper teeth, lower teeth, partial facial nerves, facial muscles, and skin, effectively replacing 100 percent of the patient's facial tissue.
"To reach this point of recovery has often times been a difficult road to travel, but I'm thankful there's been a road – and Cleveland Clinic has been the vehicle to help drive me along," said the recipient. "I am forever grateful for the care this hospital has given me and continues to offer on my journey of recovery and healing. To call my surgeons, physicians, nurses and caregivers 'world class' would be an understatement. And to my donor and her family – words cannot express the appreciation I have for this incredible gift. With a grateful heart, I say 'thank you' to all who have made this possible for me."
To protect the privacy of those involved, no further information will be released about the patient, the donor or their families.
This surgery will give the patient the capability to speak more clearly, and breathe, chew, and swallow more effectively. She'll also be able to use her face to better express emotions. In addition to significantly improved physical function, the patient will also have enhanced physiological, psychological and social function.
Since the surgery, the patient is recovering well and getting accustomed to her new face. She is walking, talking and will begin eating orally shortly. She will continue to go through extensive rehabilitative therapy, including physical therapy, speech and swallowing therapy and occupational therapy. Doctors continue to monitor her closely for signs of tissue rejection. The patient, like all transplant patients, will remain on immunosuppressant medication for the rest of her life to prevent rejection.
In December 2008, Cleveland Clinic became the first U.S. hospital to perform a face transplant. At the time, it was considered the largest and most complex face transplant in the world, integrating different functional components such as nose and lower eyelids, as well as different tissue types including, skin, muscles, bony structures, arteries, veins and nerves.
"It was an honor for our team to work collaboratively with Cleveland Clinic on a case that will have such a profound impact on this patient's life," said Gordon Bowen, CEO, Lifebanc. "We are tremendously grateful to the donor and her family, with whom our team has developed a special bond during this process. It was the family's decision to donate that has allowed this extraordinary miracle to occur and we are honored to continue to support them. We are appreciative of all those who commit to give the gift of life and healing. Designating one's wishes can be done easily online in just moments, and the impact of giving more life is infinite."
The advancements of face and other vascular composite allograft (VCA) transplants offer new opportunities for healing. VCA donations, such as face, arms and uteri, are special requests with additional authorization above donations designated on the Ohio Donor Registry. The Lifebanc team works extremely closely with families of potential VCA donors to ensure that all their questions are answered and needs are met as they make the decision to allow these types of additional donations to occur.
Make the easiest, big decision you can make. Give More Life by registering to be an organ eye and tissue donor: www.lifebanc.org/morelife.